Club Properties Presents Real Estate
In Heritage Oaks Golf & Country Club



Heritage Oaks Golf & Country Club delivers the best in golf & luxury amenities in a friendly, social atmosphere! Make it your home today!

Every homeowner at Heritage Oaks becomes a member with the purchase of a home here. We are a C.I.R.A. (Common Interest Realty Association) club, also known as a "bundled" community. The club is resident-owned and every member has an equal share, regardless of the type of home they purchase. Heritage Oaks is financially sound. Our auditors have consistently rated the club as having the "Best financial position among all clubs in Southwest Florida."
Every home purchased includes a club membership in return for a modest capital contribution at time of purchase. Each home is also part of a Homeowners' Association which provides funding and sets policies for common property repair or replacement. Those policies also govern landscaping for patio homes, paired villas, club homes, and verandas. Single family homeowners have their own Homeowner's Association, but owners of these homes provide their own landscaping.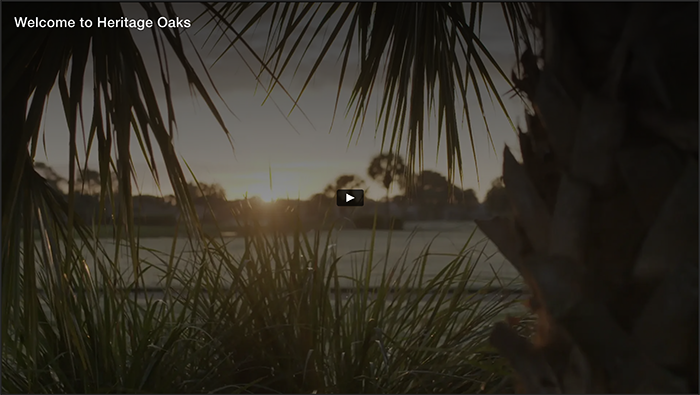 Check our our wonderful video profile above.
Each year there are opportunities to rent at Heritage Oaks. As you become involved in the Heritage Oaks lifestyle, the benefits of owning a home become very clear. Many of our renters soon become homeowners.
Please come and see all that Heritage Oaks has to offer. With many home styles to choose from, there is one just right for you. You will understand why our members are frequently heard repeating the Heritage Oaks motto, "Another Day in Paradise." This can be your motto, too!
Heritage Oaks Golf and Country Club has retained its designation as a "Certified Audubon Cooperative Sanctuary" through the Audubon Cooperative Sanctuary Program for Golf Courses, an Audubon International program. Todd Steward, Golf Course Superintendent, led the effort to maintain sanctuary status on this course. Heritage Oaks Golf and Country Club was designated as a Certified Audubon Cooperative Sanctuary in 2011 and is one of 904 courses in the world to currently be designated as such.